In the recent history of British television, there are few more significant and influential figures than Verity Lambert. From the early days of her career at ABC Television in the early 1960s, to her final production 'Love Soup' which she was making for the BBC at the time of her death in 2007, Verity Lambert had a career that spanned the widest range of television genres, from comedy to drama, to soap operas and even the occasional bit of science fiction.
To mark the enormous contribution of this remarkable lady to the British film and TV industry, the Doctor Who Appreciation Society and Riverside Studios will on 23rd July 2014 unveil a blue Heritage plaque commemorating her work. The plaque will be on display at Riverside Studios until the venue closes for development in the autumn, when it will be placed into storage and then permanently mounted at the new Riverside media centre when completed.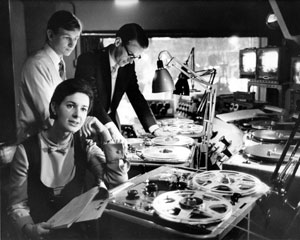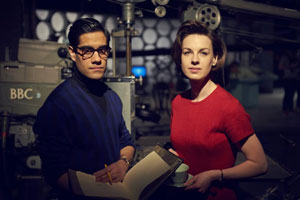 To celebrate the unveiling of the plaque, the Society has, by special arrangement with BBC Worldwide, arranged for a screening of the BAFTA award winning drama 'An Adventure in Space and Time', in high definition at Riverside's cinema, on the evening of 23rd July, starting at 7pm. This will be followed by an interview with Verity's friend and long time colleague, Waris Hussein.
Update:
As part of the evening, director Kevin Davies will be presenting a short compilation of unseen interview footage with Verity Lambert.
Tickets for the screening are available free-of-charge directly from DWAS. These will be distributed on a first-come first-served basis, with a special allocation reserved for DWAS members. To apply for tickets please click here.
To raise the funds for the plaque, DWAS will be hosting an auction via its eBay site very shortly, which will give Doctor Who fans the opportunity to bid for some collectable items donated by friends and fans.
Enquiries can be emailed to us at events@dwasonline.co.uk but please note that tickets cannot be allocated or reserved by email.
Applying for the FREE Tickets
NOTE:
As the event is tomorrow tickets are no longer available via us. However, you may be able to get tickets via the Riverside box office on 020 8237 1111

If you wish to apply for free tickets please read the following carefully:
You may apply for up to two tickets per application.
Please forward the name of each person who would like a ticket and send to us with a stamped addressed envelope for return of your tickets to us at:
DWAS (screening)
Unit 117
33 Queen Street
Horsham
RH13 5AA
Tickets are for use by the named ticket holder only and are non-transferrable. They must not be sold on for any kind of consideration, financial or otherwise. As such if you do not provide the names of each applicant then we will not be able to allocate you tickets.
A number of tickets have been reserved for DWAS members. Please quote your membership number to be included in this allocation.
Under 16s must be accompanied by a ticket holding adult. The programme has been allocated a PG certificate.
Tickets cannot be obtained (or reserved) online or by e-mail.
Allocation of a ticket does not constitute a contract with DWAS, Riverside Studios or its representatives. Should the screening not go ahead for any reason no liability for consequential loss can be accepted (although we have no plans to cancel!)
If for any reason you are allocated a ticket and then find you cannot attend we would appreciate your returning the ticket to us at the above address as soon as possible, so that we can re-allocate it.
Whilst ticket allocation is expected to be on a first come first served basis, this will be at the sole discretion of DWAS. If you are not successful in getting a ticket we will use your SAE to advise you on this. We reserve the right to refuse admission.
Use of cameras is permitted at the start and end of the panel session only and not during the screening. Audio and/or video recording of the panel and/or the programme is not permitted.
This is not a Doctor Who convention as such, there will not be merchandise, photo studios or autograph sessions on this occasion.